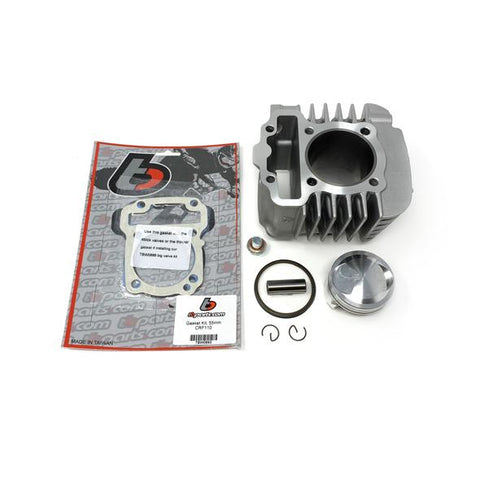 TB 132cc Big Bore Kit – CRF110 13 & Up Models
This TB CRF110 132cc big bore kit is a great performance upgrade for all year models of the popular Honda CRF110.  With the larger bore, this bolt-on upgrade kit will give you more power and higher compression for a very reasonable price.  This is an ideal option if you're looking to add some power or you just need a new cylinder, piston, and rings to rebuild your engine.
Key features:
Fits all Honda CRF110 year models
Largest bore you can go without boring the cases
More power and fun at an affordable price
Easy bolt-on kit
The cylinder includes a temperature sensor port for the 2019 and up fuel injected models
Runs on pump 91+ octane fuel
Kit includes:
55mm Aluminum Cylinder with Steel Sleeve and temperature sensor port
55mm Lightweight higher compression Piston & Rings
55mm Top End Gasket Set
Bolt/washer to close off the temperature sensor port (for 2018 and older models)
Important Note:  For the 2019 and up fuel injected models, the ECU will require a flash/tune to prevent a lean condition and possible damage to your engine.  We will include a tune for your bike when you purchase an Aracer Standalone Ecu from us, or get the AF1 wideband setup for autotune abilities.
---
We Also Recommend
---