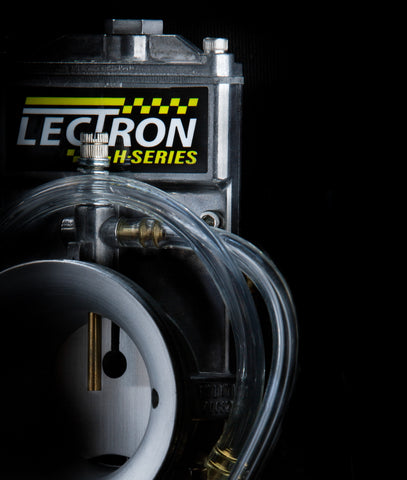 Lectron H-Series 4-Stroke Carb
The kits include: H-Series Four Stroke Carb Throttle Cable Throttle Assembly Billet G2 throttle Progressive rate Lectron throttle cam  
*Lectrons provide superior throttle response and power delivery by utilizing our patented metering rod.
*Our simple design does not incorporate multiple jets to replace.
*Our taper bore squeezes the air to increase speed and create fuel lift behind our flat metering rod.
*Lectrons are a great choice for riders seeking performance, fuel economy, simplicity and smother power delivery.
*Most 4 stroke engines idle around 1,500 – 2,400 RPMs this is where 4 stroke Lectrons function best but no lower.
*Our new idle correction circuit helps maintain good idle while still having a good throttle snap off low RPM so there is no need for an accelerator pump.
*Lectron is a competitive advantage to 4 stroke engines used for all racing and off road applications.
By submitting an order for a Lectron product, you are agreeing to our shipping, cancellations, and returns policy.
Key changes:
New mold with 60% more aggressive venturi and redesigned bell.
Improved slide design
Earlier power jet activation
Double the idle adjustment
Lighter throttle pull
Shorter overall carb length
New black and yellow themed sticker
Performance
The new slide works in conjunction with the increased bore taper to create more air flow (CFM) at low throttle positions.  This generates higher velocity, more fuel lift, and a faster, torquier hit immediately off idle without being snappy or uncontrollable.  The higher velocity also activates the power jet earlier to create a stronger, more tunable mid-range.
Lectron's dyno testing has shown a 20% increase in torque and horsepower at 5000RPM compared to the outgoing 38HV on a KTM 250. This is what riders refer to as "bottom end." It is the meat of the powerband for off-road riding, and creates faster acceleration out of corners for all disciplines. In layman's terms, this carb straight barks.
Rideability is improved with a lighter stock spring for reduced forearm fatigue. Heavier pull options remain available upon request.
Technical Details:
60% more bore taper from the engine side of the carb to the slide (4mm vs 2.5mm)
Idle position raised to create more adjustment
Slide cutaway raised to increase responsiveness
Light spring is now stock.
37.5% more CFM (air flow) at 1/8th

 

throttle
Same CFM at WOT for the same top end and overrev as the outgoing model
---
We Also Recommend
---