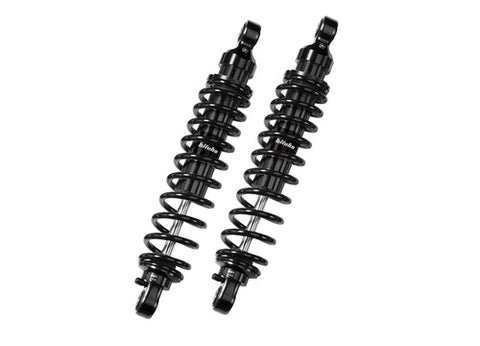 14in Bitubo Black Rear Shock Harley Davidson Dyna
Significantly increased riding comfort and adjustability
Alloyed steel main shock body with black finish
Springs manufactured from Cr-Si alloyed steel (black)
Black anodized CNC machined billet aluminum head
Manual spring preload adjustment system (tool included)
Nitrogen pressurized coaxial chamber with oil/gas aluminum piston
Includes set-up manual, install instructions, and adjustment tool
Adjustable features include:

Spring preload (manual)
Hydraulic rebound

Note:

 

Fitment intended for Harley-Davidson Dyna's but compatible with applications using 0.50" DIA shock mounting hardware

If you're lucky enough to live in a place with beautifully paved roads and an unexplained lack of potholes, then shock absorbers aren't a big deal for you. For the rest of us that ride on today's roads, varying levels of shock performance make significant difference in our riding experience. Most OEM motorcycle suspensions are carefully designed to ensure adequate performance under a variety of conditions. Still, every suspension represents numerous compromises, as manufacturers must design their motorcycles for a variety of needs and conditions, while ensuring that some customers' expectations about ride and handling are met effectively and safely. But, your needs may not match what the manufacturer had in mind for their particular model.

Bitubo presents its WMEo series rear twin shocks in chrome and black, for select Harley-Davidson models. The WMEo shocks allow a remarkable overall improvement over the factory shocks as well as improved handling at higher speed, higher loads, and variable terrain.

Technical Features: These monotube shocks only use a single outer tube. The oil and gas are separated by a free floating piston which puts the oil on the top and Nitrogen gas on the bottom shock body in high resistance alloy steel with a CNC machined billet aluminum head.

The monotube shock design contains a larger active piston surface area, which means greater and more consistent damping force.
Lower operating pressure leads to more consistent and controlled rides.
Other benefits include increased oil capacity, improved heat dissipation, and longevity.
The free-floating piston valve never allows oil and gas to mix thus minimizes foaming. The overall effect is that monotubes offer better and more precise damping.
Monotubes are more durable; require minimal maintenance and the cost in the long run is much lower.
---
We Also Recommend
---