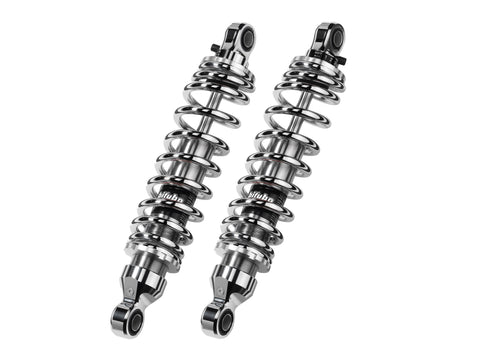 13in Bitubo WMEo Rear Shock Set Chrome Harley-Davidson Dyna
If you're lucky enough to live in a place with beautifully paved roads and an unexplained lack of potholes, then shock absorbers aren't a big deal for you. For the rest of us that ride on today's roads, varying levels of shock performance make significant difference in our riding experience. Most OEM motorcycle suspensions are carefully designed to ensure adequate performance under a variety of conditions. Still, every suspension represents numerous compromises, as manufacturers must design their motorcycles for a variety of needs and conditions, while ensuring that some customers' expectations about ride and handling are met effectively and safely. But, your needs may not match what the manufacturer had in mind for their particular model.
Bitubo presents its WMEo series rear twin shocks in chrome and black, for select Harley-Davidson models. The WMEo shocks allow a remarkable overall improvement over the factory shocks as well as improved handling at higher speed, higher loads, and variable terrain.
---
We Also Recommend
---